---
Transformeer Jouw Thuis Automatisering met de SwitchMote™
Verbeter Jouw Ervaring met Thuisbediening
Ontketen de kracht van technologie in jouw handen met de SwitchMote™ Bluetooth Schakelaar. Dit innovatieve apparaat herdefinieert hoe je omgaat met huishoudelijke apparaten en maakt alledaagse taken een fluitje van een cent. Stel je de gemakken voor van het bedienen van jouw robotarm en andere apparaten met slechts een vingeraanraking. Zeg vaarwel tegen traditionele schakelaars en omarm de toekomst van slimme thuisautomatisering.
Draadloze Bediening met een druk op je smartphone
Zeg gedag tegen onhandige schakelaars en verwelkom de intuïtieve bediening met aanraakknoppen van de SwitchMote™. Met zijn strakke en moderne ontwerp transformeert dit apparaat gewone schakelaars in slimme knoppen, waardoor je moeiteloos controle hebt over jouw robotarm. Een simpele aanraking is alles wat nodig is om de arm te activeren of te deactiveren, wat een vleugje elegantie aan jouw huis toevoegt en jouw leven vereenvoudigt.
Altijd en Overal Verbinding
Breng de controle naar een hoger niveau met de compatibiliteit van de SwitchMote™ met Bluetooth-gateway. Verbind jouw apparaat naadloos met het 2,4 GHz Wi-Fi-netwerk en ervaar de vrijheid van afstandsbediening. Of je nu thuis bent, op het werk of op vakantie, je kunt nu jouw robotarm bedienen met slechts een tik op jouw smartphone. Ervaar het ultieme gemak terwijl je technologie moeiteloos integreert in jouw dagelijkse routine.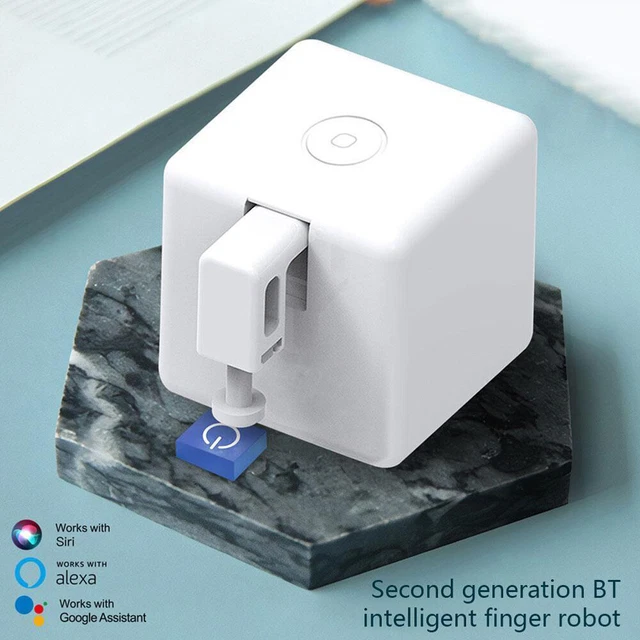 Stemgestuurde Briljantie
Verbeter jouw slimme thuiservaring verder door spraakbesturing in te schakelen via de Bluetooth-gateway. Stel je voor dat je jouw robotarm eenvoudige spraakopdrachten geeft. Of het nu gaat om het in- of uitschakelen of het sturen van specifieke taken, de SwitchMote™ reageert moeiteloos op jouw stem, wat een vleugje futuristische charme aan jouw leefruimte toevoegt.
Moeiteloze Installatie
Laat je niet intimideren door technologie - de SwitchMote™ is ontworpen voor iedereen. De eenvoudige koppelingsmodus stelt je in staat om het apparaat moeiteloos te verbinden met de Slimme APP op jouw telefoon. Schakel eenvoudig Bluetooth in en volg de eenvoudige stappen. Binnen enkele minuten heb je volledige controle over jouw robotarm, waardoor je de meester wordt van jouw thuisautomatisering.
Verhoog Jouw Levensstijl met de SwitchMote™
Omarm de toekomst van thuisautomatisering met SwitchMote™ - Bluetooth Schakelaar. Transformeer jouw ruimte tot een modern toevluchtsoord van gemak en efficiëntie. Zeg vaarwel tegen onhandige schakelaars en hallo tegen de elegantie van aanraak- en spraakbesturing. Maak het leven eenvoudiger, slimmer en plezieriger - haal vandaag nog jouw SwitchMote™ in huis.